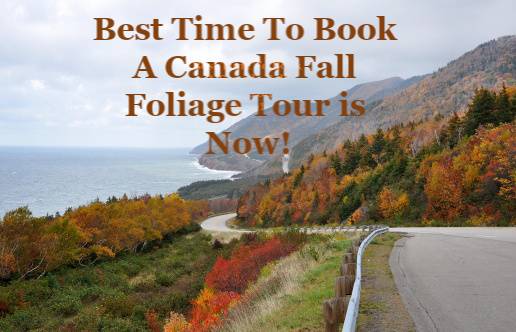 Best Time To Book A Canada Fall Foliage Tour is Now
I've had several clients ask me about when the best time to book Canada fall foliage tour and my answer is always the same, and it's now! Let's get the obvious out of the way first... Canada is by far the second largest country in the world and many would say that to try and pin point the best time to see any fall foliage there is almost impossible. I would agree if what they were talking about were the weird weather patterns we've been having. I mean the South Pacific for instance has been going like night and day there! In the southeast part of Australia Australia and Kangaroo Island we've been seeing nothing but fires, and those poor animals, my God!! Then in New Zealand is nothing but rain, I'm telling you... Night & Day!!
However, like numbers, seasons don't change; is that a fair statement? I mean, Spring, Summer, Fall and Winter begin & end on the same day, and that being said, we know when leaves begin to change, and YES this can vary by a few days. However, what's important is knowing where the best places to see fall colors in Canada are, and you've come to the right place!
On our list of best places to see fall colors in Canada, we will be adding them alphabetically, so here goes...
Agawa Canyon, Ontario:

The colors of fall foliage in Agawa Canyon, Ontario can be seen anytime between the end of September and end of October. The best part about Agawa Canyon, Ontario is the Agawa Canyon Tour Train, which runs from as far north as Sault Ste. Marie down through 114 miles of Canadian wilderness.

Algonquin Park, Ontario:

Like Agawa Canyon, the best time to visit this 2955 square mile park is during September & October... Love maple syrup? The maple trees here are at their very best orange-red during this time! The best part of visiting Algonquin Park is there thousands of lakes and rivers; you can either experience by way of canoe.

Bruce Peninsula:

Located between Georgian Bay and Lake Huron, Bruce Peninsula is a hiking trail comprised of almost 500 miles of forest with trees that are more than a thousand years old! Imagine seeing this are from above during the months of September & October?

Cape Breton Island, Nova Scotia:

During the second week of October, Cape Breton Island is one of the best places on Earth to see fall foliage, especially on Cabot Trail... The Cabot Trail is a world-renowned highway in Breton Nova Scotia that wraps around a 186 mile mountain trail where you can see some of the world's most beautiful coastal views and foliage.

Prince Edward Island:

The dense forests located within Prince Edward Island are a sight to behold during the months of September, October and sometimes even longer due mainly to the moderate climate the warm waters of the Saint Lawrence River & Northcumberland Strait give Prince Edward Island.
If you're looking to start researching Canada Fall Foliage tours, there are a few we could recommend for you at the best price possible! Keep in mind that airfare is always changing in price, and rarely does it reduce in price, so the faster you book your flights, the faster you'll be able secure the best possible price.