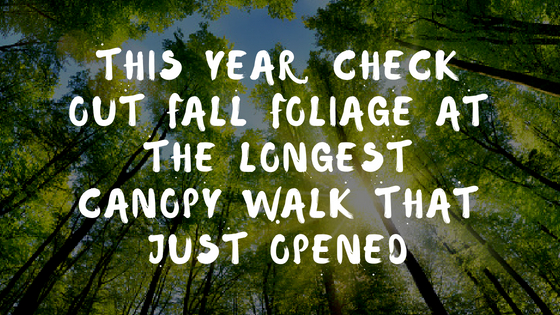 This Year, Check Out Fall Foliage At The Longest Canopy Walk That Just Opened
Are you ready to go on a canopy walk like you've never experienced and will allow you to see some of the best fall foliage in the country? The U.S.'s longest canopy walk to be constructed, is expected to be open in October. Located at Midland's Whiting Forest, this $20 million walk will show off some amazing views in the fall when the changing of the leaves are at their peak.
The walk is four stories in the air which will allow visitors to be close to eye level with the leaves. At some spots the walk will be around 40 feet in the air and will let visitors view an apple orchard. In total the canopy walk will be 1,400 linear feet in total and handicap and ADA compliant so visitors of all abilities should be able to enjoy it.
Onsite their will be a playground that is located close to the old visitor center. It will have climbing walls, rustic swing sets, slides and a pod that will be similar to a treehouse. There will also be picnic tables nearby so families can bring a meal with them to enjoy before or after going on the canopy walk. One of the interesting things about the playground is some of the trees that were cut down in order to make room for it will be part of the materials for it. The old visitor center is also getting a much needed update. This will include the Whiting Forest Cafe. The new visitor center will also have classroom spaces and exhibits for guests to interact with.
The location of this new canopy walk is perfect as it's located close to two future pedestrian bridges. This will give visitors access to both the Dow Gardens and the Grace A. Dow Memorial Library. This project is expected to be completed sometime in the spring. Despite all of this, what many are excited about is the fact that this new canopy walk will be open just in time for fall foliage. While it depends on how well snow removal efforts go in the future, the canopy walk may end up being open year round so that visitors can enjoy all that nature has to offer, not just in the fall, but at any time of year.