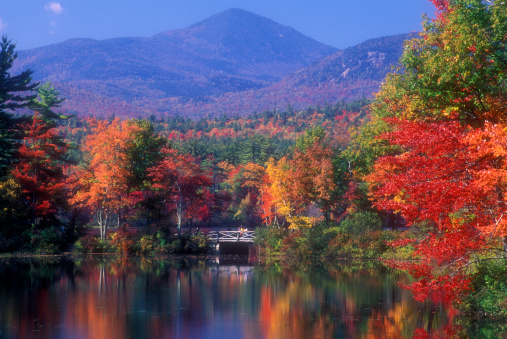 6 Best Cruise Ports for Fall Foliage
Fall is the time of year when nature puts on a beautiful art show of different colored leaves that are reds, golds and oranges. Those who go on a cruise in New England or Canada during the fall months, can see fall foliage while they are at port. Here are 6 of the best cruise ports for fall foliage.
Boston
Those in Boston will not only enjoy all of the fall foliage, but a variety of fall related activities as well. Not far off the port there may be the opportunity to take part in a fall festivals, stop at a shop for apple cider doughnuts or something that's pumpkin related. Boston is full of a lot of historical buildings that look particularly beautiful with fall foliage as their backdrop.
New York
Who doesn't love New York in the fall? The cruise port is located in Manhattan and there's plenty to do here. If you have enough time in New York, you should consider going on a fall foliage tour. However, most passengers are able to get a great view of the leaves right from their cruise ship. An added perk is that they can easily take pictures of the Statue of Liberty as well.
Newport
This port is great to visit virtually any time of year. The Historic District is amazing and there are Colonial neighborhoods that are well preserved. A lot of tourists walk around the city and to not only see the leaves, but to look at the many mansions and to enjoy the harbor.
Quebec City
This port is a great place for a cruise ship to stop at during the fall. Much of the greenery is alive with crimsons, burgundies and golds. The city itself has somewhat of a European flare to it. It's romantic, friendly and just a charming place to visit. While here, visitors must stop for a baguette from one of the bicycle baskets on the street! Visitors can also see the St. Lawrence River and the Laurentian Mountains in the distance as they are strolling around.
Halifax
You can't talk about a great port to see fall foliage without mentioning Halifax. This location has some of the best fall foliage displays in the entire world. The city is filled with a lot of history and it's considered to be an energetic town. There are quaint pubs and cafes and even the more rowdier clubs for those that want a fairly memorable time. If you are lucky enough, you just might run into an outdoor concert depending on when your cruise ship will be here.
Saint John
This harbor town is only about 90 minutes from Maine. When a cruise ship docks here there is a greeting committee that welcomes passengers to Saint John. The architecture in this city has a lot of Victorian influence and features brick walkways, old fashioned lampposts and flowers blooming everywhere. All of the uniqueness of the city makes it a great place to view fall foliage.