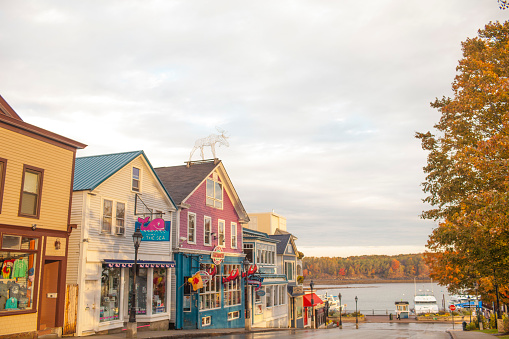 Bar Harbor Maine
Maine is the largest state in New England.

All five other New England states could fit within the boundaries of this state. Maine joined the Union in 1820. Residents of this dramatic state, with its rugged coastal lands and immense pin forests, have included painter Andrew Wyeth and writers Edna St. Vincent Millay and Harriet Beecher Stowe.

Many tours and cruises include a stop in Bar Harbor, Maine.
Discover the historic community of Bar Harbor with its beauty, charm and unique character. Nestled between the mountains of Acadia National Park and the Atlantic Ocean on Mount Desert Island, Bar Harbor has attracted visitors, naturalists and scientists for decades
The town is small and easy to walk the main road full of local shops and restaurants. Well worth a tour, is a trip up to Cadillac Mountain. You will see spectacular coastal, mountain and forest scenery. You can hike, canoe or just talk a walk in the park. For those that have been to Bar Harbor before, consider whale watching.